Spend the day in Historic Anacostia!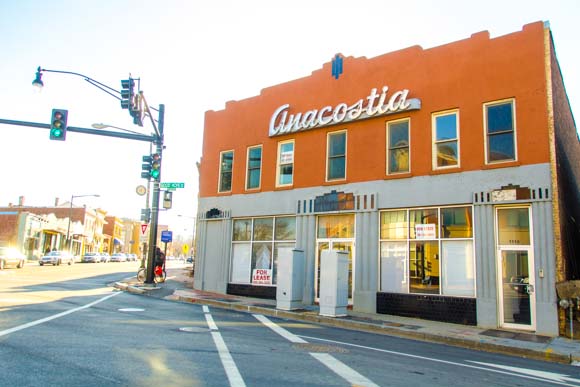 Anacostia is our home, and we love being part of a growing and thriving community, populated by families who have been in the neighborhood for generations. If you've ever been to one of our shows, you've seen the Playhouse, but there's so much more to explore! Every Saturday we have matinee and evening performances of both for colored girls who have considered suicide/when the rainbow is enuf by Ntozake Shange and Word Becomes Flesh by Marc Bamuthi Joseph. Catch one show at 2pm, explore the neighborhood, then swing back for the evening performance of the other show at 8pm.
Whether you drive or take public transit, getting to Anacostia is easy! If you're coming by car, there's plenty of street parking right in front of the Playhouse. Metro more your thing? Anacostia Station on the Green Line is only 7 blocks from the Playhouse. Now that you're here, here's one of the many ways you could spend your day:
Grab brunch before the matinee at Art-drenaline365 Café, located in the Anacostia Arts Center. They have a full menu including Smoked Salmon Benedict, Dipped French Toast, and Omelets with your choices of filling. Their brunch ends at 1, which leaves you plenty of time to walk over to the Playhouse—only two blocks away—to catch the 2pm performance. You'll even have time to check out one of the many galleries and shops inside the Arts Center.
After the matinee, grab a smoothie from Turning Natural Juice Bar, and enjoy DC's famous Spring weather as you stroll over to the Smithsonian operated Anacostia Community Museum or the National Park Service run Frederick Douglass House. The Anacostia Community Museum has exhibits about Black life and activism, both in Anacostia, and DC at large. This weekend you can check out their exhibit on life in DC from 1963-1975, years that shaped this city
and changed the nation. Want to tour famed abolitionist Frederick Douglass' house? You can plan ahead and get a reservation to see inside, or roam the grounds and get incredible views of the city, like this one, for free.
Since both museums close at 5—and you've been walking so you're probably hungry—stop by any number of the locally owned restaurants along Martin Luther King Jr. Avenue and Good Hope Road. Love Pizza? Mama's Pizza Kitchen sells it by the pie or the slice, as well as lasagna, sandwiches, and barbecue. Seafood more your thing? Capitol Hill Crab Cakes serves fresh crab, fish, shrimp along with chicken and waffles and a host of sides. If you like cocktails, Uniontown Bar and Grill and Cheers at the Big Chair have fully stocked bars and daily food and drink specials. And if happen to have a traffic ticket with you, Caribbean Citations will give you a discount on your whole order!
As it gets closer to 8, swing back to Shannon Place and grab your seat for the evening show. Stay after the performance to chat with our staff and artists about the shows, then go tell your friends about the awesome Saturday you spent in Anacostia.
We love our neighborhood, and we know you will too!